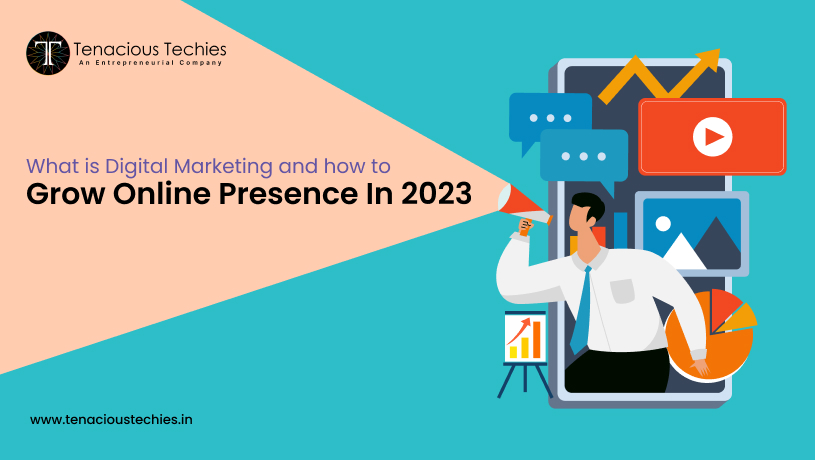 Digital marketing happens over the internet where we promote brands to connect with customers digitally. These may include channels like social media, emails, and search engines. We communicate on these channels through text, images, videos, and other multimedia messages. If you want to learn more about digital marketing and how it can help your small business grow, keep reading this blog.
How business is evolving in the covid times?
With the lockdown forcing people and businesses to take a step back and stay home, it has also given people the opportunity to browse more on the internet. This in turn has given rise to businesses seeking an online presence. Online marketing provides a vital platform for businesses to create their digital presence. This can be achieved through having your own websites or even having your own social media platforms. Digital content and your product's marketing over social media are very common ways for people to get their knowledge about brands these days. Hence with the evolving business needs, it is a must nowadays to have your own digital presence.
Benefits of Digital Marketing
Let's talk about how digital marketing can aid you and how it is the way forward for your business. I will be presenting you with 6 easy benefits that will convince you in creating a digital presence.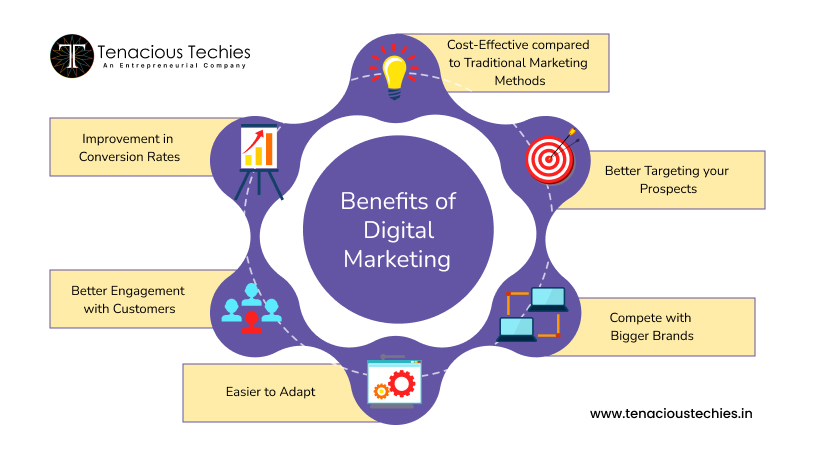 1. Cost-Effective compared to Traditional Marketing Methods
Through social media platforms, you will gain an online presence where your customers can interact with you 24/7. You can easily track and target campaigns on a daily basis for the right customers. This will not cost as high compared to traditional marketing techniques like TV or newspaper ads.
2. Better Targeting your Prospects
You can select your targeted audience which you feel will buy your products. The ads will be set to those customers only. You can also select particular regions and cities to do the beta testing this will hence help you in researching your customer behavior.
3. Compete with Bigger Brands
With a proper digital marketing and SEO strategy, you can easily compete with bigger rival brands. A good brand should have proper keyword research which will give you an edge over your competitors.
4. Easier to Adapt
You can research and do beta testing for a better analysis of your products. You can track who, what and where people buy the products. In this way, if a strategy is not working for you, you can easily adapt and improve it to a better one.
5. Better Engagement with Customers
With features like reviews, likes, and comments, you can track what your customers are talking about your products. Hence you can make improvements if needed or launch a product according to the market demand.
6. Improvement in Conversion Rates
As you can easily measure digital marketing plans, generating quality leads and converting them becomes easier. Being able to measure effectiveness can help you in making better strategies.
Types of Digital Marketing
Let me introduce you to some basic digital marketing types that you need to be familiar with.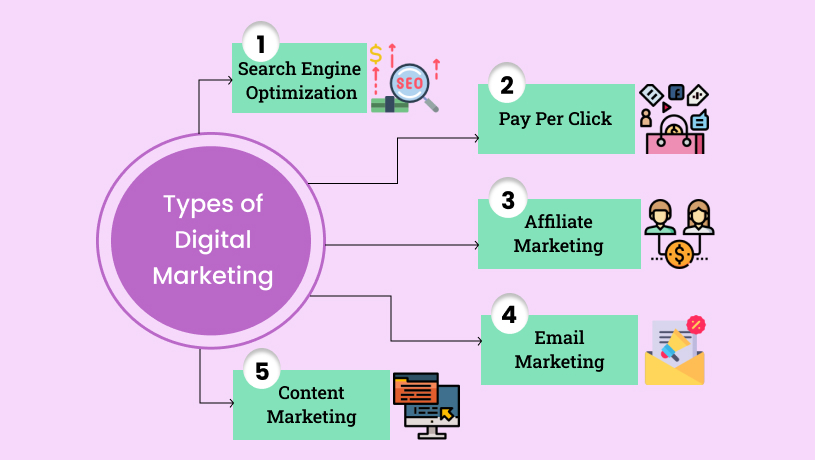 1. Search Engine Optimization (SEO):
It is the process of optimizing your website such that it ranks higher in engine research pages and hence increasing the organic traffic to your website. It is an organic way of increasing your traffic where you need not spend much money if you have an in-house team working on the project. Search Engine Optimization (SEO) in itself is a big branch comprising simple elements like
On-Page SEO – How a website looks and how many keywords are present.
Off-Page SEO – What other people are talking about you which involves link building.
Technical SEO – Backend of a website including CSS and data, image structuring.
Local SEO – Improving your digital presence through google my business.
2. Pay Per Click (PPC):
Through PPC, you are driving traffic to your website by paying the publisher every time your ad is clicked. If you want quick success and you don't mind spending, PPC will be your ally. There are various types through which you can do PPC.
a. Google AdWords
b. Paid ads on Social media platforms: This includes ads on Facebook, Instagram, Twitter, and various social media campaigns.
3. Affiliate Marketing:
It is performance-based marketing where you hire a bunch of affiliate marketers who will promote your product and these marketers will get a commission from the customers they brought through their own personalized links.
4. Email Marketing
Various companies use email marketing through which you can increase customer interactions through promotions, discounts and events. The email marketing campaigns can include
a. Blog Subscription Newsletters
b. Follow up emails
c. Welcome Emails
d. Promotion and Discount Emails
5. Content Marketing
You can create and promote your products through content creation. This can be achieved through writing your own blogs, creating infographics, or creating audio and visual content.
How to do Digital Marketing?
So a question a lot of people get at the start of their digital marketing is how to do it and where to get started. So let me show you 6 key points while performing digital marketing.
Define your goals
When you are first starting with your own digital marketing campaign, you should always define your goals on what you want to achieve from them. You should question what digital marketing is for and what you are using it for. You should plan the campaign and strategy focused around the products and how much or if at all you want to spend any money on them.
Identify your target audience
As we have already mentioned that the biggest advantage of digital marketing over the traditional is that you can focus your marketing on a specific targeted group of people. You can always test out the water and can segment people and products based on various matrices which can provide you with an excellent opportunity to identify your customers.
Balance your paid vs free digital strategy
A healthy mix of both strategies will do wonders for you. You can't totally depend on one of the two strategies as they provide you with a key differentiating factor. That is Traffic vs Organic Growth. Both are equally important and traffic will come with organic growth but it takes time and that's when you can introduce PPC techniques.
Create Engaging Content
You should create a decisive plan for your content strategy is. This includes your social media posting and blogging along with PPC ads, email marketing, and more.
Optimize your digital assets mobile friendly
Nowadays most of the online traffic comes from smartphones. So you should create applications and websites as mobile-friendly as they are for desktop users. Creating an excellent digital experience provides you with better customer retention and create better user experiment.
Conduct Keyword Research
Digital marketing is all about targeting the right customers for you and this can happen if you perform keyword research. It is critical to optimize your website through SEO.
Conclusion:
We hope you have now understood what is digital marketing and how it helps you increase your online presence. If you want to learn more about digital marketing you can enroll for our digital marketing course in Surat. We at Tenacious Techies provide you with optimal and effective digital marketing solutions for your businesses and help you create a smooth digital experience for your customers.