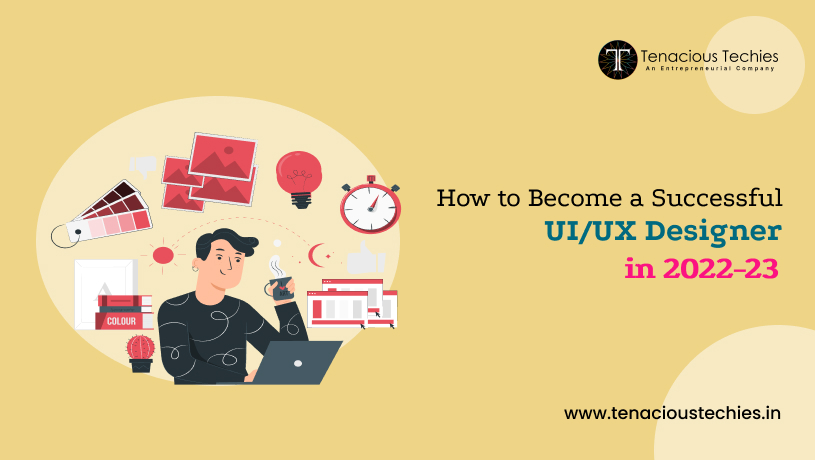 Introduction: What is UI/UX design, and why do you need it?
In UI design, UI stands for "User Interface." The visual design of a website or mobile application is the user interface. It consists of all the elements that users interact with, such as the buttons they click, the text they read, the graphics, sliders, text entry areas, and other things. This covers every single micro-interaction, as well as screen layout, transitions, and interface animations. UI design encompasses all visual components, interactions, and animations found in web and app layouts. If you want to become a successful UI/UX Designer, enroll for our best UI/UX design course in Surat.
In UX Design, UX stands for "User Experience." The way a person interacts with a website or mobile app affects their experience with it. How simple or challenging it is to interact with the user interface elements that the UI designers have created determines the user experience.
User interface (UI) and user experience (UX) design are the two most important aspects of any software or digital product. UI design is what the user sees and interacts with, while UX design is how the user feels when using a product. Good UI/UX design makes a product not only look good but also easy and enjoyable to use, which is why it's essential for any business that wants to create a successful digital product.
When a person interacts with a digital or physical product, like a website or a coffee maker, user experience (UX) designers are in charge of creating the best possible user experience for them. Some people concentrate on service design, such as creating the overall experience of taking public transportation or going to the doctor.
Their primary focus is on researching users, comprehending their behaviour, and designing a user experience that makes it easy for users to do their intended tasks.
Skills required for UI/UX design
UI/UX design is a growing field with many opportunities. There are many schools and programs to learn from, but no one way to become a great designer. You can learn from others by reading articles, watching videos, or talking to experienced designers. Or you can start your own journey by learning the basics of design and then experimenting with different techniques and tools. The important thing is to be passionate about what you do and keep learning new things. If you want to master your skills in UI/UX Design, enroll for best UI/UX design course in Surat.
Some of the essential skills needed for UI/UX Design are mentioned below: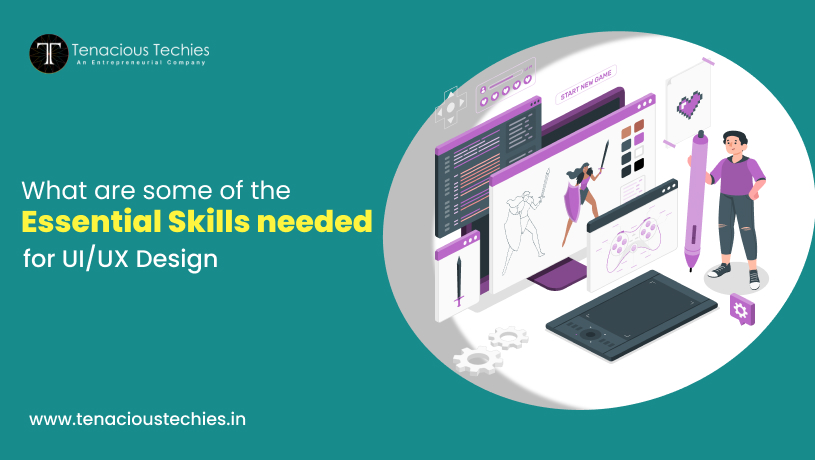 UX Research Techniques
UX designers must be able to gather both quantitative and qualitative information about users through in-depth investigation and analysis. For the same, they can conduct user interviews, user observations, or tests. They can also run focus groups or surveys. UX designers must be able to select participants for focus groups and compile information from unstructured conversations.
Prototyping and Wireframing Skills
The interface components that will be a part of the important pages are represented by wireframes. A UI/UX designer is in charge of deciding which features to show, how to present them, and where to place them. The most straightforward and effective UX should be created.
UX Writing Techniques
UX writing abilities are crucial since they may assist you in using microcopy to improve your UX designs. What we hear or read while utilizing a digital product is referred to as microcopy. Microcopy is a crucial component utilized in website navigation. Effective UX writing must be brief, practical, and indicative of the brand's ideals.
Skills in Visual Communication
UX places a lot of importance on visual design. It involves much more than just a website's appearance and feels. Some UI components, like the playback button, are standardized. Users are aware that this button can be clicked and what it does whenever they see it. Good visual communication's primary objective is to reduce the need for written instructions.
Tools for Design
One or both of these UI UX design tools must be mastered by a professional UI/UX designer. To master these tools, they must put them to use and presumably take advanced courses. The various components and assets that will be used in the wireframes and prototypes must be designed by UI/UX designers.
Typing abilities
Typography knowledge is crucial for UI/UX design. By drawing users' attention to key features in the design, typography can improve the user interface and experience. It's crucial for designers to know which font to use and when to use bold or italics.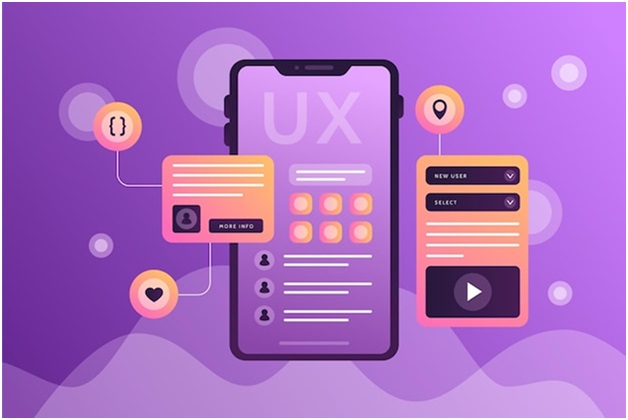 How to learn UI/UX design
If you want to become a UI/UX Designer, here are some tips that will help you: First and foremost, learn as much as you can about design principles and theories. Secondly, practice your skills by creating mock-ups and user interface designs for different applications. Finally, network with other designers and experts in the field, attend conferences and join online communities to gain knowledge and insight.
Apart from that, taking online training courses about UI/UX Design can be helpful.
Tenacious Techies, one of the most innovative companies around the world offers in-depth training courses about the same. Starting from graphic design, and typography introduction to designing workflows and prototypes, you will learn every inch of detail along with the practice sessions.
As a Training Institute, they have more than 10 years of experience and offer a wide variety of options for students to undergo training, Instructor-led sessions, practical sessions, project work, Learning, eLearning, and much more.
All you need to do is enroll in the course and join your respective batch. Learn all the concepts that a potential UI/UX designer needs to know. Practice each topic in parallel with the explanation given and you will be all set to work on live projects.
Hands-on Project
Get opportunities to work on live projects. Create designs and workflows as per the business requirements given to you. Earn rewards and also get the privilege to mention the project on your resume.
How is this UI UX course conducted?
Here is the simplified sequence of steps that you need to follow throughout the journey of this course.
1 Choose one of the ongoing projects
2 Learn designing from your expert
3 Practice implementation under his guidance
4 After completion of the project, present it in front of your jury
5 Receive certificate & apply for jobs
Here is a module-wise distribution of the topics and sub-topics that will be covered in the course:
Lesson 1: Orientation
Lesson 2: User Research
Lesson 3: Synthesis and Analysis
Lesson 4: Paving User Flows
Lesson 5: Interaction Design Principles
Lesson 6: Wireframing and Prototyping
Lesson 7: UI Design Principles
Lesson 8: Colour Psychology
Lesson 9: Typography Fundamentals
Lesson 10: User Testing
Lesson 11: Starting with Portfolio
Lesson 12: Creating Personal Brand
Lesson 13: Portfolio Jury
Lesson 14: Placement Assistance
Who can enter the UI/UX Design field?
There are two categories of responses.
The first is that graduates with degrees in the humanities, social sciences, business administration, or electrical engineering are the best prospects for this field.
Even working professionals from the marketing sector, such as digital marketers, content writers, marketing executives, branding consultants, etc., as well as the IT sector, such as graphic designers, mobile app developers or website developers, video editors, product managers, etc., can easily break into this field.
The second is that people are motivated by a passion to engage in previously unexplored activities. Regardless of your field of study or line of work, you may be the ideal candidate to begin or switch careers in this industry if you enjoy in-depth knowledge, research, an analytical attitude, and modern digital technologies. I have acquaintances who studied law before making a career change and now work as UX researchers for major IT companies. Because they discovered their genuine interests later, better than before, and believed the UX business would allow them to make better use of their analytical and problem-solving abilities.
These are the top 10 tools which are widely used in UI/UX Industry:
Figma

AdobeXd

Photoshop

Illustrator

Sketch

InVision

Zeplin

Balsamiq

Flinto

Axure
What jobs are available in UI/UX Design?
There are a variety of jobs in the UI UX design industry. Some companies may require just one UI UX designer, while others may have a whole team of them. The following are some common positions in this field:
User interface designers create the look and feel of a product. They work with graphical elements to make sure the product is easy to use. User experience designers focus on how users interact with a product. They work on making sure the user has a good overall experience with the product.
Interaction designers create interactions between users and products. They make sure that buttons and menus are easy to use and understand.
UX writer: The words on a product interface have a significant impact on the user experience even if writing isn't often thought of as a part of the product design process. They are among the most sought-after employees in the design sector as a result of the industry's recent realization of the value of UX writing.
UX Strategist: UX strategy can be thought of as the meeting point of business strategy and UX design. They ensure that the design team is pursuing the company's objectives while also bringing a user-centered perspective to the boardroom.
Information architects design the information hierarchy for websites and apps. They make sure that important information is easy to find. Research scientists conduct studies about user behavior. They use this information to improve designs.
What are the prospects for UX designers' careers?
The need for UX designers is rising steadily. Even as of 2020, UX design was one of the top 5 most in-demand skills according to LinkedIn, and Glassdoor included it in their list of the top 50 positions to have in 2022.
This is largely because businesses are starting to recognize the value of investing in UX design teams and how it can significantly impact their bottom line and long-term objectives. Additionally, CNN Money forecasts a 13% increase in demand for UX designers between 2017 and 2027.
Even Google integrated UX into their ranking algorithm since they believe it to be such a crucial component of a company's website. Start your UI/UX Design Career by enrolling in best UI UX design course in Surat.
Where are UX designers needed?
Conducting a few quick searches on websites like Glassdoor, LinkedIn, or Indeed is one of the greatest ways to determine where UX designers are in demand (across the world). You may quickly check how many roles are available by searching for "UX designer jobs" in your city or locations you're willing to relocate to.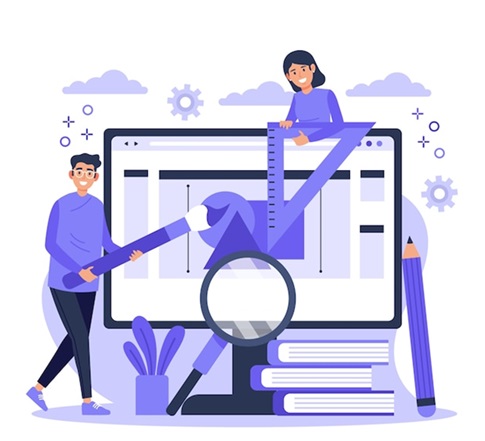 Conclusion: Is UI/UX design the right career for you?
If you want to be a successful UI/UX designer, there are a few things you need to do. First, understand the basics of design. Second, learn how to use various design tools and programs. Third, learn how to create prototypes and designs. Fourth, be creative and come up with new ideas. Fifth, network with other designers and constantly improve your skills. Lastly, always stay up-to-date with the latest industry trends so that you can create cutting-edge user interfaces and user experience designs.
The working environment for UI designers is extremely varied, especially for those who have the option to work remotely, internationally, or even just on a freelance or consulting basis. As UI Designers contribute to a wide variety of product types for an even larger variety of clients, there is always something new to learn and a new challenge to take on. They can anticipate enjoying a variety of jobs as well.
Due to their great demand, UI designers have better job stability and earn more money. The role may even be immune to economic ups and downs for UI designers with competence in the art of persuasion—marketing, advertising, and the ability to convert clicks into sales—since this specialty becomes even more important as general progress slows.
Although there is a big need for UI/UX designers, there is still a lot of room for improvement on the supply side. Formally educated designers continue to be out of touch with current industry standards and UI/UX job positions.
This calls for familiarity with the most recent hardware and software developments as well as the best business practices and approaches in this field. Businesses are scrambling to find designers who can help them succeed in the digital world.
And given the potential for growth in this area, now would be the ideal time for you to begin working as a UI-UX designer and join what is currently the trendiest sector. Now if you have decided to start a career in UI/UX Design, enroll for best UI UX design course in Surat.