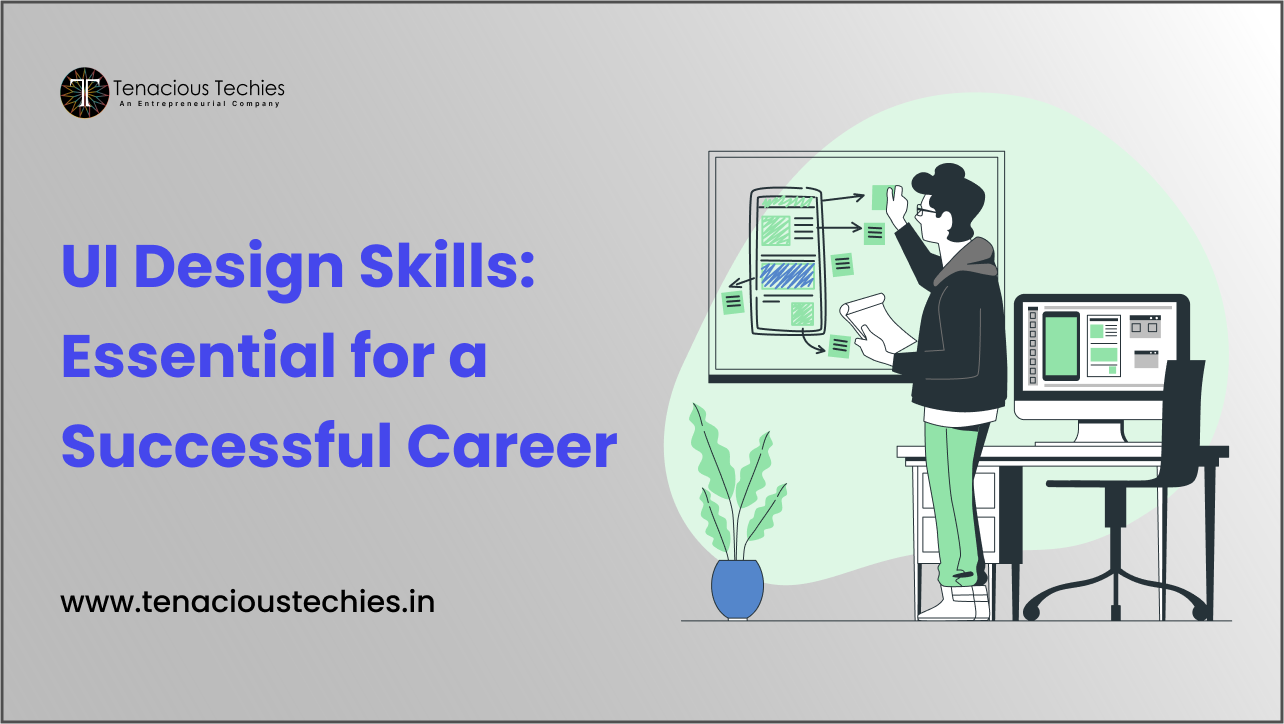 If you've ever used a computer or smartphone, you've probably questioned how I do this. at least once. When designing an app or website, a UI designer must continually consider this question. But first, we must define what a user interface is to further understand what user interface (UI) design is.
What is a UI designer?
A UI Designer or User Interface Designer is a person who designs all of the screens that a user will browse through while using a website, app, or video game. They also produce the visual design parts that allow this movement. 
Because user interface design is a subset of user experience design (UX), the terms UI and UX are frequently misused, and those outside the profession may not know the difference between a UI and UX Designer. Although they both aim to provide a positive user experience, UI design is a different step in the UX design process and is vital in and of itself.
If you're considering a career in UI design, you will undoubtedly want to know whether and for how long there will be a need for UI professionals. Let's find out. 
Consumers now have more purchasing power and higher expectations when it comes to working with digital products because of the internet's, technology's, and social media's rapid progress. 
The demand for UI designers is rising steadily. Even as of 2020, UI design was one of the top 5 most in-demand skills according to LinkedIn, and Glassdoor included it in their list of the top 50 skills to have in 2022. 
This is largely because businesses are starting to recognize the value of investing in UI design teams and how it can significantly impact their bottom line and long-term objectives. Also, CNN Money forecasts a 13% increase in demand for UI designers between 2017 and 2027. 
Before starting the blog, I think you should take a quick look at the tenacious techies training course on how to become a UI designer expert. They also provide a wide range of course selections for your career. Contacting them is simple. All you need to do is visit the Tenacious Techies website and enroll or join the WhatsApp group for enrolling.
Why is UI design important? 
Because users can only interact with your app or website through the user interface, how it is designed has a big impact on how they feel about it. If you've used any low-effort apps or websites, you already know how annoying a poorly designed user interface can be. 
The creative edge that UI designers provide to the project helps your app or website stand out from the many other options available. Creative UI design is how you may stand out, even if you are adhering to a more general template of what a ride-hailing app or a booking website should look like. 
Brand awareness is also another important factor in UI design. Your product or service will be easier to describe if all of your designs follow the same standards. The creation of a single asset is only the beginning of UI design. Designers can design for the wider picture of how it will all appear and function together by making it a strong focus for your project.
Rules of UI design: 
For your understanding to be better and simplified, I have summarized the golden rules of UI design. Below-mentioned rules are a few of them- 
User to be first 
As a UI designer, you may be creating an app for a wide audience depending on the project. In the end, you are a human being with experiences and biases. You must consider any potential user's perspective. 
Sticking to tried-and-true designs and procedures helps to make sure that users with different backgrounds, ages, and disabilities can all utilize your product successfully. 
Smooth user interaction greatly benefits from constant interface feedback. There should be a reaction to each decision they make that verifies what they have done. 
By doing so, they may be able to make necessary corrections or maintain their attention on the task at hand rather than whether or not they have completed it. To keep consumers on board, your design must also simply point out errors to them. 
Value users time 
Make sure you aren't surprising those who are familiar with your software for experienced users and updates. Users like having a sense of control and knowing how to meet their goals. 
Users barely give new apps and websites a chance to function before quitting them. If you're going to take your time to train someone on your unique user interface, make sure it's clear and helps them in doing their intended task. 
Constant data entry and having to repeat instructions that they have already completed irritate users. Consider "how fast can I get them back to what they want to do" if you're requiring them to register for a user account or submit some data. 
Consistency is the key 
It can be difficult to design something that sticks out while also being recognizable to new users, but the effort is rewarding. The program's prompts, colours, copy, fonts, menus, and controls should all feel well connected. 
A user is more likely to go back or stop using your product altogether if they get lost from one screen to another or feel that a section looks and feels different. 
Do not overload the user 
You have a limited workspace to work with at once as a user interface (UI) designer for an app or website. It may be tempting to provide the user with as much information as possible, but simplicity is your friend in this situation. Users prefer simple and clear communication over products that overwhelm them. 
Give them a hint as to how they arrived there if a user is exploring more of your app, such as Men > Shoes > Sneakers > Fashion Sneakers. They'll be able to browse more easily, worry less about remembering information, and instead focus on the good or service in front of them.
Skills required to become a UI designer 
As UI design is a developing field, there isn't a clear way to qualify. Many UI designers in the industry have backgrounds in unrelated industries and bring with them transferrable talents like visual design, software development, or digital marketing. 
The educational background of a UI designer is also not entirely clear. A background in psychology can be equally as beneficial to a UI designer as a degree in graphic design, even if UI design is all about how people think, therefore a degree in graphic design or web design can be helpful. 
Although there are other relevant skills that a UI designer should possess-
Wireframing and prototyping skills 
The interface elements that will be a part of the important pages are shown by wireframes. A UI designer is in charge of deciding which features to show, how to present them, and where to place them. 
The most simple and effective UI should be created. UI designers need to consider how to diagrammatically represent all UI elements, including graphics, menus, and CTA buttons. 
Mockups are created by UI designers after the accepted wireframes. Mockups are essentially basic mockups of a product that is used to test a procedure or a concept. To see this through, UI designers must be familiar with prototype tools. 
In the final stage, an elevated design is created as the final mockup of the product, which mimics the finished product that has been coded and executed. UI designers need to be quick in producing wireframes and prototypes. 
Writing skills 
Writing skills are important because they can support you in using microscopes to build better UI. Microcopy is what we hear or read when using a digital product. Microcopy is an important factor of website navigation.
Effective UI writing must be brief, practical, and reflective of the brand's ideals. UI writing works with interaction, visual design, and interaction to help create a space where users can succeed. 
Visual communication skills 
UI places a lot of importance on visual design. It involves much more than just a website's appearance and feel. Some UI features, like the playback button, are standard. When they see this button, they are well aware that it may be clicked and what it does.
Reduced reliance on written instructions is the key objective of effective visual communication. Users should be able to navigate and find whatever they need solely by using visual cues. 
Design tools 
A professional UI designer must be familiar with both of these UI design tools. To master these tools, they must put them to use and probably take advanced courses. The various components and assets that will be used in the wireframes and prototypes must be designed by UI designers.
Analytical skills 
A UI designer must continually track usability data for goods and look for methods to make them better. Any newly created websites or applications must be tested by them. They can evaluate the design if they get the meaning of all the analytics. 
All the above-mentioned skills are necessary for a UI designer to have. If you are wondering how to adapt these skills, I would suggest going for a course. Nothing is easy. Every field requires patience and dedication. To become a UI designer expert all you need to put in is your time and effort. 
Let's continue the blog. Moving forward, moving forward you'll understand all the important factors of this field.
What does a UI designer do? 
UI designers create the parts of a digital user interface as well as the screens that make the interface. As a result, they take into account both the general design of each particular screen and the connection of all the other screens. 
They want to design user interfaces that look fantastic, accurately represent the brand and are simple and fun for users to use. UI designers usually focus on: 
The visual layout, use, and functionality of UI components such as buttons, text and form fields, drop-down menus, scroll bars, icons, and checkboxes (to name a few) 
Make sure that the design is responsive to various devices and screen sizes.
Design that is inclusive to all people. 
UI designers may also be responsible for designing and maintaining a UI style guide in addition to performing actual design work. This is done to maintain consistency across all areas of the product and among several goods.
Where do UI designers work? 
Any organization that offers a digital good or service hires UI designers. These days, that is common. 
Startups, major enterprises, governmental and public institutions, nonprofit organizations, and agencies all hire UI designers internally. They can also work for themselves as independent contractors, offering contract UI design services to various customers. 
UI designers can work in practically any industry, from healthcare and education to banking, journalism, music, travel, cuisine, and beyond, just like UX designers and other computer specialists. 
Consider all the various software, apps, and websites you use in both your personal and professional lives, as well as the range of industries they serve. UI design careers provide a wide range of choices.
Everyday Activities of a UI Designer 
Everyday activities of a UI designer include-
Conduct user research and determine how users interact with the products 
The UX designer team collects information through interviews, online surveys, and competitive analysis. It is important to learn about the goals, needs and motivation of the users. After analyzing the goals and needs of the users, a UI designer is concerned about the visual styling of the app or website. 
Consider the way icons are created, how they are shown on a page, and how they interact with one another. UI design includes many different design components, including font selection, color scheme, graphics, buttons, and menu layout. 
These design decisions help users understand what can be clicked, touched, or swiped, which button in a group is most important, and how to recognize calls to action.
Works together 
In order to make sure that the user journey matches the UX team's product vision, UI designers team up with UX designers. For instance, can a consumer finish all the procedures required for an online purchase? 
Do they accept the upsell or cross-sell offers made at the signup? For voice-activated IoT devices like smart speakers or voice agents, some UI designers create voice user interfaces. Their responsibility is to create conversational interfaces that help users do tasks without the use of a visual user interface. 
Create wireframes and user flows
Creating a design in a low-fidelity manner. Wireframes, which include UI elements like buttons or graphics, depict a user's interaction with a website or app.
Product testing on actual customers
Gathering customer feedback based on a minimum viable product (MVP). An MVP is the initial version of a product that meets the basic requirements necessary for release. 
What are Job Opportunities for aspiring UI Designers?
Every online job portal has nearly 500+ job opportunities for a UX/UI designer. Being a UX UI designer will have ample benefits for your career, and it will also provide a competitive salary. 
If you have a fine eye for visuals and a strong imaginative tendency, UI design is a great way to scuff that desire. It is also a good career if you are fond of finding out and investigating human-centered solutions to complicated problems. 
The UX profession may have a radical future. Brands have started to consider serious experiences, and the market is exploding. It is imperative that UX designers keep up with the quick speed of new innovations and technologies. 
Although jobs and careers may change, the party will continue. How you will maintain your composure in this rapidly changing UX sector is now the question.
I'm not sure if colleges and online courses can teach you everything there is to know about user experience, but if you're still looking to advance academically, you can always go back to school. 
Check out the salaries of UX UI Designers in India. The data was pulled from Glassdoor. If you want data for a certain city, you may use this site to search for job roles.

The avarage entry level salaries for UX/UI Designer would start at ₹2,00,000. you can find more job responsibility and income on glassdoor.co.in website.

Conclusion 
I'd quickly sum up this article. No matter whether you are a beginner or an expert, this article will help you understand more about how and what a UI UX designer does. Every career seems difficult unless you are focused and determined. It all depends on whether you want to sit back and relax or work hard and earn a competitive salary. 
Looking for the reasons why to trust the tenacious techies team? Here's why you should consider us for your better future. After spending 10 years implementing SEO strategies the team is about to reveal their proven framework so that it becomes easier for you to trust. Also, 
100% cashback– The one condition is that you will have to prove your completion of training. 
Free affiliate marketing training– In addition to SEO, you will master Affiliate Marketing, which will allow you to start making money by selling in-demand goods and services. 
Job placement– For those who have finished all the activities, passed our test, and attended all of our training sessions, we have a 100% job placement success rate to date. 
Full/Part/On-site training facility available– If you have a strong desire to study, we are flexible enough to help you get started, whether you like to learn offline, online, or part-time.