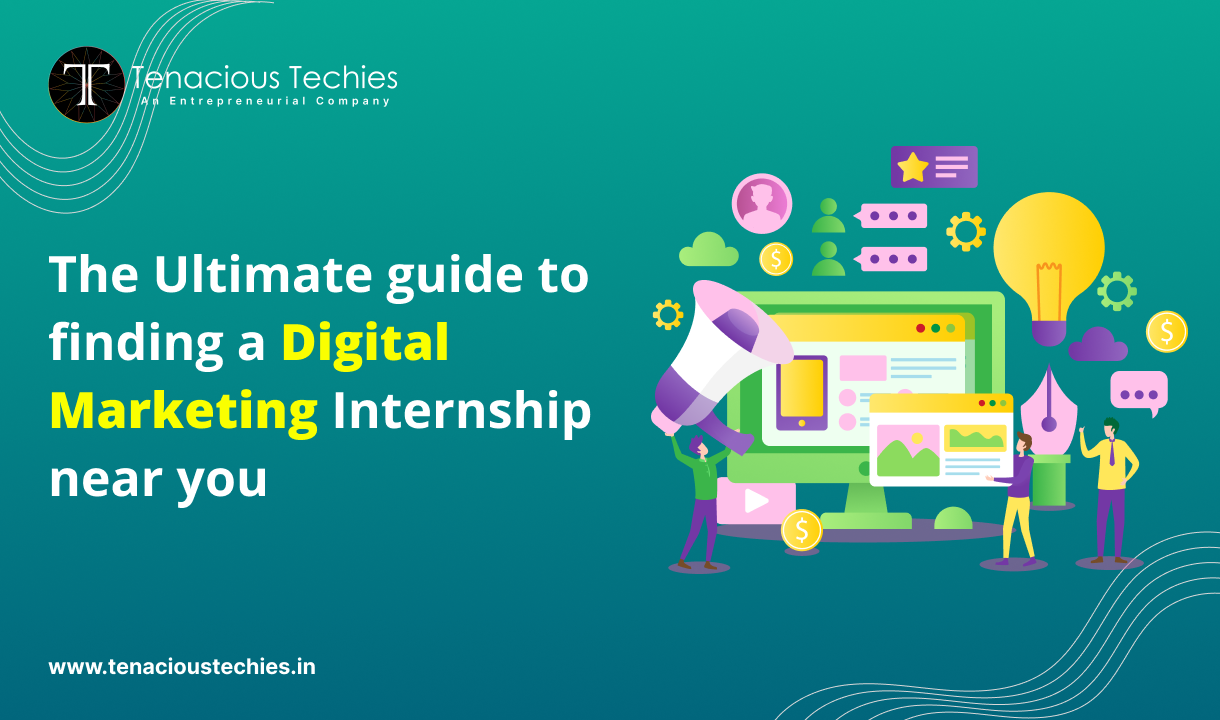 Looking for a digital marketing internship near you to start building your career? With this Ultimate Guide, you can find the best way to get started in digital marketing with internships that are specifically tailored to your location. Learn how you can use these resources to gain experience and make connections in the field!
Research and Connect with Professional Digital Marketing Companies.
When looking for a digital marketing internship, your first step should be doing research and connecting with the right companies. Many of today's leading companies will have existing or ongoing digital marketing internships that you can apply to.
Researching organizations ahead of time will give you a chance to familiarize yourself with any available positions or existing opportunities before making a move. Additionally, reaching out to recruiters and hiring managers in the field can open up connections already working in the industry, giving you access and insight into what career paths are within reach.
Utilize Job Portals to Get Internship Opportunities.
Job portals, such as Indeed and Glassdoor, are great tools to search for digital marketing internships in your desired location. You can define the location to narrow down nearby digital marketing positions and review job postings to determine which opportunities fit your criteria.
Besides, many of these job portals also have filters for remote positions to help you expand your search further. Make sure that when you apply, add a current CV and cover letter specifying why you are perfect for the position!
Leverage Social Media for Digital Marketing Internships.
Don't forget to include social platforms in your job hunt! Utilizing professional and industry-focused networks, like LinkedIn and Twitter, for digital marketing internships can help you reach a broad range of employers. You can also do keyword searches to make sure your profile is visible when recruiters are looking. Make sure to join relevant groups on LinkedIn or participate in industry conversations on Twitter to build connections with potential employers who may be hiring digital marketing interns.
Network To Find Digital Marketing Internships Near You.
Take advantage of the power of networking to find digital marketing internship near you. Attend industry events, conferences, and workshops to make contacts, introduce yourself and discuss the career opportunities in digital marketing with the people who attend. Join professional organizations, such as a local IABC chapter or AMA chapter that focuses on digital marketing topics, to further expand your contacts and visibility.
Don't forget to take advantage of online tools as well, create a strong professional profile on LinkedIn or join career-focused social media platforms like Internships.com or The Muse.
Research Local Events to Find the Perfect Fit for an Internship Opportunity.
Researching your local events is key to discovering the perfect internship opportunity. Look out for upcoming digital marketing conferences, workshops, and seminars sponsored by organizations such as IABC or AMA to introduce yourself to even more contacts in the industry.
Take advantage of meetups like IAB Connected Content, Private Creation Presents Innovation & Technology Summit, and Work from Home Expo to gain insight into new trends in digital marketing and establish contacts with industry professionals. Additionally, don't forget to use popular job searches websites such as LinkedIn or Glassdoor for better visibility into internships
Don't forget to use online tools such as Google Maps to identify companies offering internships nearby and check out their websites or Facebook pages. Many digital marketing agencies offer internship programs, so make sure to contact them directly and inquire about the details of their program. Start networking early on. don't wait until an internship opportunity arises. establish relationships with professionals in the industry by joining digital marketing groups on social media networks and attending events wherever possible.
Go out of your way to find and follow digital marketing blogs and publications, as they often contain listings for internships and other job opportunities that are yet to be posted elsewhere. Finally, make sure you have a targeted resume that speaks directly to employers' needs in order to ensure maximum chances of success.
15 Simple Tricks to find digital marketing internship near you
Utilize job search websites: There are many job search websites available that list digital marketing internships in your area. Some popular ones include Indeed, Glassdoor, LinkedIn, and Internships.com.
Check company websites: Many companies have a career page on their website where they list available internships. Look for companies in your area that you are interested in working for and see if they have any digital marketing internships available.
Utilize social media: Many companies will post internship opportunities on their social media accounts. Follow companies in your area on platforms like Twitter, Facebook, and Instagram to stay updated on internship opportunities.
Attend job fairs: Job fairs are a great way to network with potential employers and learn about internship opportunities. Look for job fairs in your area and bring copies of your resume to hand out to potential employers.
Join professional organizations: Joining professional organizations related to digital marketing can help you connect with industry professionals who may know of available internships. Some popular organizations include the American Marketing Association and the Digital Marketing Association.
Network with classmates: Talk to classmates who have completed internships in digital marketing and ask them for advice on finding an internship. They may be able to provide you with leads or recommend companies to apply to.
Reach out to your school's career center: Your school's career center may have resources available to help you find internships. They may also have connections with local companies that offer internships.
Contact local marketing agencies: Look for marketing agencies in your area and reach out to them to inquire about internship opportunities. Many agencies offer internships and may be willing to provide you with valuable experience.
Research startups: Startups are often looking for interns to help with digital marketing efforts. Look for startups in your area and reach out to them to see if they have any internship opportunities available.
Attend industry events: Attend industry events related to digital marketing in your area to meet professionals and learn about internship opportunities.
Create a LinkedIn profile: Creating a LinkedIn profile can help you connect with professionals in the digital marketing industry. Make sure your profile is complete and professional-looking.
Utilize your personal network: Let your friends and family know that you are looking for a digital marketing internship. They may know of opportunities that are not advertised.
Apply to multiple opportunities: Apply to multiple internship opportunities to increase your chances of finding a position.
Customize your resume and cover letter: Tailor your resume and cover letter to each position you apply to. This will show employers that you are serious about the position and have taken the time to learn about the company.
Follow up: After you apply to an internship, follow up with the employer to let them know you are interested in the position. This shows initiative and can help you stand out from other candidates.
Final Thoughts
So, there you have it! The ultimate guide to finding a digital marketing internship in surat. If you're looking to get some real-world experience in this exciting field. Then follow these tips to increase your chances of finding an internship. Use online resources, and show your skills and passion for digital marketing. With a bit of persistence and a proactive attitude, you'll be well on your way to securing that dream internship!