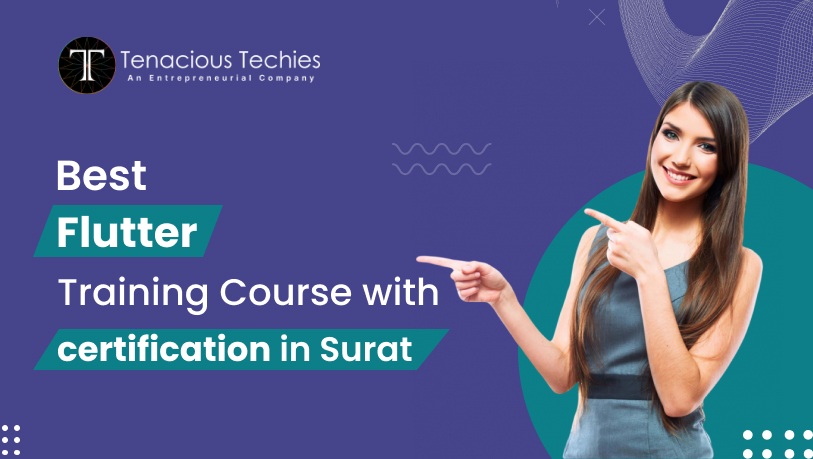 If you're looking for the best Flutter training course with certification in Surat, you've come to the right place. At our academy, we offer comprehensive courses that will teach you everything you need to know about Flutter, from the basics to the more advanced concepts. Upon completion of the course, you will be awarded a certificate that will attest to your skills and knowledge.
What is Flutter and why learn it?
Flutter is a mobile app SDK that allows you to develop high-quality native apps for iOS and Android. Flutter is a Google product, used by developers to create stunning cross-platform mobile applications.
With Flutter, you can create fast and responsive user interfaces. The framework uses the Dart programming language which is easy to learn for beginners. In addition, Flutter provides a set of tools that makes it easy to develop, test, and deploy your app.
If you're looking to create beautiful and performant mobile apps, then you should definitely learn Flutter.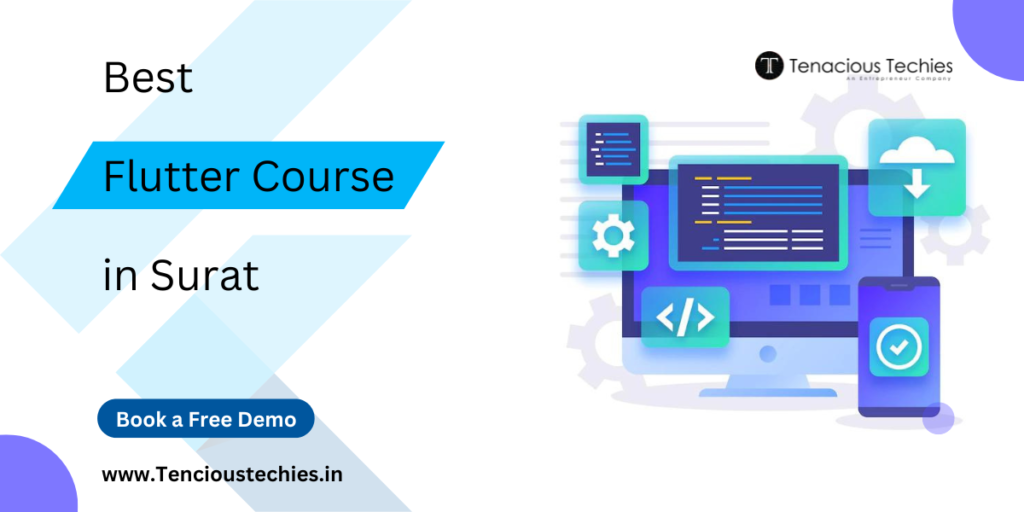 The Best Flutter Training Course in Surat
If you're looking for the best Flutter course in Surat, you've come to the right place. At our institute, we offer a comprehensive course that covers all the basics of Flutter, from creating your first app to adding features and animations.
Our course is perfect for those who want to get started with Flutter development or improve their existing skills. We offer both theory and practical sessions, so you can learn everything you need to know about this popular cross-platform framework.
After completing our course, you'll be able to build beautiful and responsive user interfaces for iOS and Android devices. You'll also receive a certification that will help you stand out from the crowd when applying for jobs or freelancing projects.

Why this Particular Course is the Best
Flutter is a relatively new technology used for developing cross-platform mobile applications. Despite its short history, it has become one of the most popular frameworks for mobile app development. There are many reasons for its popularity, but the main reason is that it allows developers to create high-quality apps with a native look and feel using a single codebase.
If you're looking for Flutter training in Surat, there are many options to choose from. However, not all courses are created equal. This particular course is the best because it covers all the essential topics in detail and also provides extra resources to help you learn more about Flutter.
The course starts with an introduction to Flutter and then covers topics such as widgets, animation, networking, and persistence. You'll also learn how to use Dart, the language used for developing Flutter apps.
Certification and what it means for students
There are many reasons why students should consider getting certified in Flutter. For one, certification can help them stand out from the crowd when applying for jobs. It also shows that they have taken the time to learn about Flutter and are serious about their career in mobile development.
But what exactly is certification? In short, it is an evaluation of someone's skills and knowledge. To become certified in Flutter, students must complete a course including a test which covers topics such as programming with Dart, building user interfaces, and creating animations and gestures.
Once certified, students will receive a digital badge that they can share on their resumes and online portfolios. They will also be listed on the Flutter Certified Developer Directory, which is a great way to network with other developers and find job opportunities.
Course outline and what students can expect to learn
The duration of our training for Flutter will be for 2 months. (Training on all courses + Assignments Completion) The schedule for the same is as follows:
-> Flutter training for one month
-> 1 Month – End to End project implementation as a Flutter developer, until the person is able to work alone, mock interviews, resume building, and Real-time opinions from Flutter specialists.
You will be familiar with all of the flutter development ideas after completing this course, and you'll probably be able to land a job at a reputable company and succeed as a Flutter Developer.
Course Highlights:-
Create Simple Application in Android Studio
Architecture Application
Introduction to Dart Programming
State Management
Animation
Writing Andriod & IOS specific Codes
Introduction to Package
Accessing REST API
Database concepts
Deployment & its tools
Testing & Implementation
Flutter Course Outline & What Students Can Expect to Learn
Here is a complete guide on what you can expect to learn in our flutter course. This course is designed for people who want to learn how to build beautiful cross-platform user interfaces using the Flutter framework.
In this course, you will learn how to use the Dart programming language and the Flutter framework to create amazing user interfaces for iOS and Android devices.
You will also learn how to use some of the most popular Dart packages, such as the Firebase package, to add cloud-based features to your apps.
By the end of this course, you will be able to create professional-looking user interfaces that are responsive, interactive, and beautiful.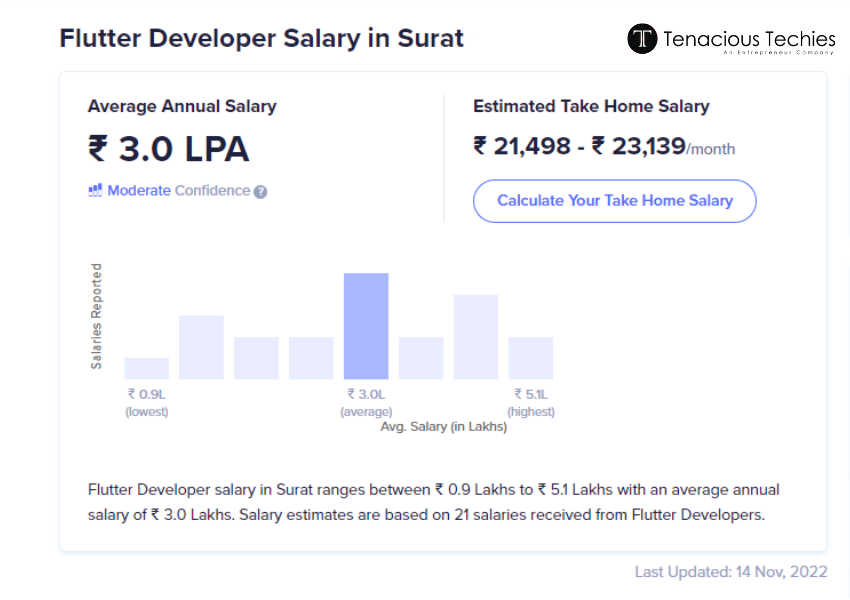 Why learning Flutter is a Smart Investment?
Flutter is a smart investment for anyone looking to get into mobile app development. Here are three reasons why:
1. Flutter allows you to develop for both iOS and Android from a single codebase, saving you time and money.
2. Flutter's hot reload feature enables you to make changes to your code and see the results instantly, without having to restart the app.
3. With Flutter, you can create high-quality, responsive user interfaces that look natural on all platforms.
So, if you're looking to get into mobile app development, learning Flutter is a smart investment that will pay off in the long run.
In conclusion, tenacious techies are the best company for the flutter course in surat. We offer top-notch quality services at an affordable price. Our customer support is excellent and we are always available to help you with any issues you may have.
So what are you waiting for? Sign up for our free demo class today and see for yourself how easy and fun learning Flutter can be!