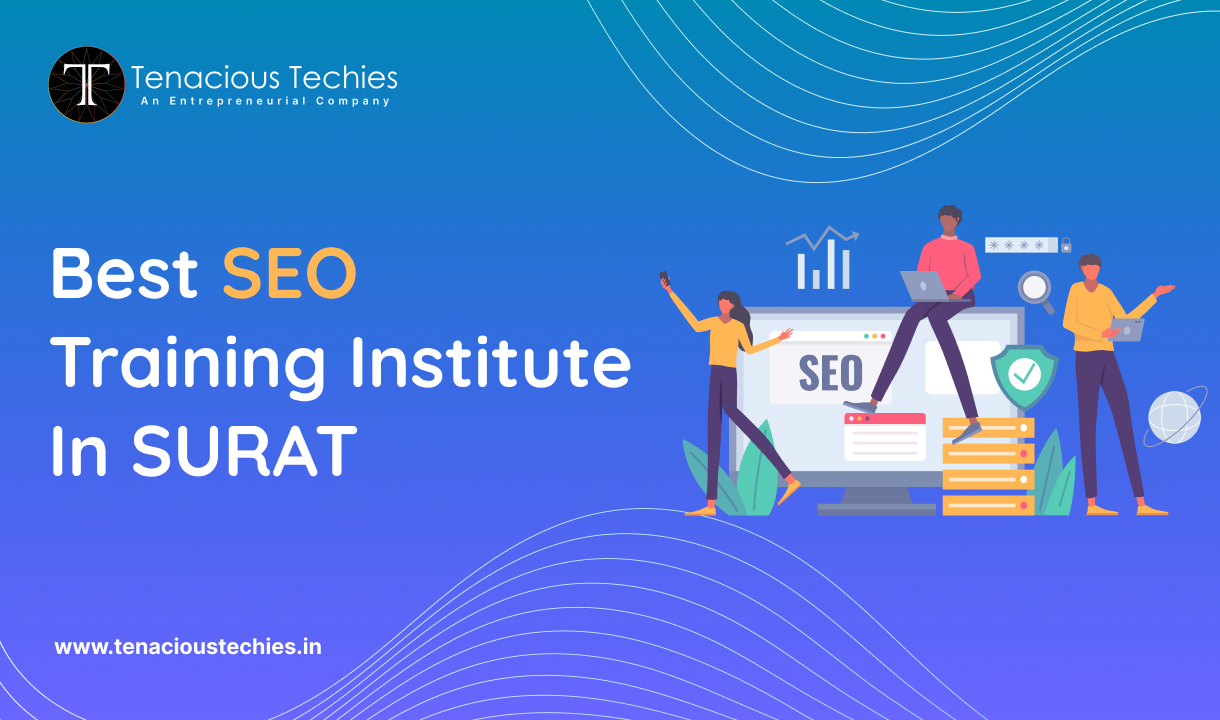 Search Engine Optimization (SEO) has become the cornerstone of online success. It's the magic wand that can propel your website to the top of search engine rankings, driving organic traffic and potential customers to your doorstep. If you're in Surat or anywhere in the world and aspiring to conquer the world of SEO, look no further than Tenacious Techies. Their 60-day SEO training program which even comes with an offer letter, can transform you into an SEO maestro.
Why SEO is So Important?
Search Engine Optimization, or SEO, is like ensuring your shop is on a busy street. Imagine you have a store and want lots of people to visit and buy things. SEO helps your website show up on the first page when people search online for something related to your shop.
When your website is easy to find on search engines like Google, more people come to your website. It's like having a big sign that says, 'Come in, we have what you're looking for!' This means more visitors, more customers, and more success for your business.
In Surat, where there are many businesses, being on that first page is like having your shop on the busiest street in town. People trust websites they find on the first page, and they are more likely to buy from them. So, SEO is essential for your website to succeed and get lots of visitors and customers.
How Tenacious Techies can help you become an SEO expert?
At Tenacious Techies, they're like friendly guides on your journey to becoming really good at SEO. They have a special program that lasts for 60 days, kind of like a fun course.
In this program, they teach you all about SEO. You learn how to make websites better so they show up at the top when people search on Google. They teach you all the cool tricks and tools to do this.
And guess what? You also get to work on real projects, like a scientist doing experiments. Plus, the people who teach you are experts with lots of experience. So, by the end, you'll know everything about SEO, and you even get a special certificate to prove it!

But that's not all – when you finish, they help you find a great job in Surat's digital world. It's like they hand you a treasure map with an 'X' marks the spot for success!
What Tenacious Techies Provides in Their 60-Day SEO Training Program?

Easy-to-understand Learning: Think of it as a special book that teaches you everything about SEO step by step. They cover everything you need to know, from the basics to advanced stuff like magic tricks for websites.
Hands-On Practice: It's like they let you play with real stuff. During the program, you work on real projects, like painting on a canvas. These hands-on projects help you understand and remember what you learn.
Friendly Guides: Your teachers at Tenacious Techies are like friendly guides on an adventure. They have lots of experience and can answer all your questions. It's like having a friend who knows everything about SEO.
Personal Help: They don't have big classes with lots of students. It's like having a private teacher just for you. They pay attention to you and help you with whatever you need.
Special Certificate: When you finish, they give you a special paper that says you're really good at SEO. It's like getting a gold star for your hard work. This certificate can help you find a cool job.
Job Help: But that's not all. They also help you find a great job in Surat's digital world. It's like they introduce you to people who can give you awesome opportunities.
Making Friends: Imagine joining a group of people who also love SEO. It's like being in a club with your favorite hobby. You can learn from each other and make new friends.
Always There for You: Your connection with Tenacious Techies doesn't stop after the program. They're like a helpful friend who's always there when you need them. You can ask for advice, learn about new stuff, or get help with SEO anytime.
Who Can Join Tenacious Techies SEO Training Course?

Anyone who wants to learn about SEO can join Tenacious Techies course. It's like inviting everyone to enjoy their favorite ice cream. Here's who can benefit:
Students: If you're a student in Surat and want to add valuable skills to your resume, this course is for you. It's like getting extra toppings on your ice cream sundae.
Job Seekers: Imagine you're looking for a cool job in Surat. Joining this course is like opening a door to a world of job opportunities in the digital field.
Business Owners: If you have a business in Surat, this course can help you understand how to make your website stand out, just like having a special flavor that everyone loves.
Marketing Enthusiasts: If you're interested in marketing and want to know how to get more people to visit websites, this course is like learning the magic tricks of online marketing.
Anyone Curious About SEO: It doesn't matter if you know nothing about SEO or a little bit. This course is like a beginner's guide to SEO, and they'll teach you everything from scratch.
Passion for Learning: If you're excited about learning new things, it's like adding a new favorite flavor to your ice cream list. This course is for those who love exploring and growing their skills.
Tenacious Techies SEO training course in Surat is like an open invitation for anyone who wants to learn about SEO, whether you're a student, job seeker, business owner, marketing enthusiast, or simply curious about the world of online marketing.
Enroll free for upcoming batch
Benefits of the 60-Day Training Program
The 60-day training at Tenacious Techies is like a special journey where you learn a lot of cool stuff. Here's why it's fantastic:
Easy Learning: They teach you everything step by step, like building with blocks. It's not too hard, so you can understand and remember.
Teacher's Help: You won't be alone. The teachers are like friendly guides who help you whenever you need it. They're like having a superhero by your side.
Time-Efficient: Learning SEO on your own can be like trying to make ice cream without an ice cream maker – time-consuming and messy. Tenacious Techies program is efficient, like using an ice cream maker to create delicious treats quickly. In just 60 days, you'll have the skills you need.
Certificate: When you finish, you get a special paper that says you're really good at SEO. It's like a golden ticket to a great job.
Real Work: You don't just read books; you actually do the things you learn, like a chef cooking real food. You get to practice, which makes you even better.
Global Opportunities: SEO knowledge isn't limited to Surat. It's like having a passport to explore the world of digital marketing globally. You can work for companies worldwide or even start your own SEO consultancy.
In simple words, this program is like a fun learning adventure with the best teachers. You become an SEO expert, and the certificate helps you find a fantastic job. It's like a winning game where everyone cheers for you!
Tenacious Techies is like a superhero team for learning SEO in Surat. They help you become super good at it in just 60 days. Then, they even help you find a great job! So, if you want to be the best at SEO and have a fantastic career in Surat, don't miss out. Join Tenacious Techies and start your exciting journey today!