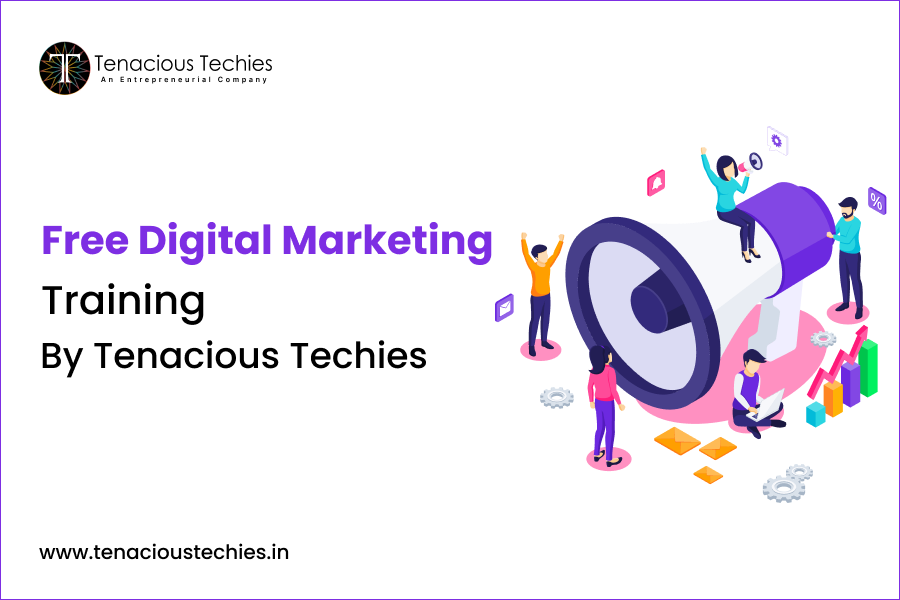 Businesses, whether big or small, are all trying to get noticed online and connect with the people they want to reach. Whether you run a small business, you're really into the online world, or you're trying to improve your job skills, knowing how to do digital marketing is super important for success. But, here's the tricky part: the digital world is changing a lot, and it's tough to keep up with all the new trends and tricks. That's where Tenacious Techies offers a special chance for regular folks and businesses to learn important stuff about digital marketing for free.
The Power of Digital Marketing
Digital marketing has emerged as a game-changer in the business world. Unlike traditional marketing methods, digital marketing allows you to connect with your audience in real time, measure your efforts with precision, and target specific demographics with a level of accuracy that was previously unthinkable. With billions of people using the internet daily, the digital realm offers an expansive canvas for businesses to promote their products and services.
The digital marketing landscape includes various components, such as search engine optimization (SEO), social media marketing, content marketing, email marketing, and pay-per-click (PPC) advertising. To harness the full potential of digital marketing, it is essential to understand how these components work together and stay updated on the ever-evolving best practices.
Tenacious Techies: A Beacon of Knowledge
Tenacious Techies is a renowned name in the digital marketing and technology industry. They have established themselves as a reliable source of knowledge and expertise in the field. Their commitment to helping businesses and individuals grow in the digital world has earned them a reputation as a trusted partner.
One of the standout features of Tenacious Techies is their commitment to knowledge sharing. They understand that the digital marketing landscape can be daunting, especially for newcomers, and that's why they offer free digital marketing training. Their training program is designed to equip participants with the skills and knowledge needed to succeed in the digital marketing world. 
What You Can Learn
The free digital marketing training program by Tenacious Techies covers a wide range of topics to provide participants with a comprehensive understanding of digital marketing. Some of the key areas they delve into include:
Search Engine Optimization (SEO): Learn how to optimize your website to rank higher in search engine results pages (SERPs), driving organic traffic and increasing your online visibility.
Social Media Marketing: Discover how to leverage social media platforms to engage with your audience, build brand awareness, and drive conversions.
Content Marketing: Master the art of creating valuable, relevant, and consistent content to attract and retain a clearly defined audience.
Email Marketing: Explore the power of email campaigns to nurture leads, build customer relationships, and boost sales.
Paid Advertising (PPC): Understand how to create effective pay-per-click campaigns that deliver a high return on investment.
Analytics and Metrics: Gain the skills to analyze and interpret data, enabling you to make data-driven decisions and refine your digital marketing strategies.
Why Free Training?
The concept of free digital marketing training may initially appear too good to be true, but Tenacious Techies commitment to empowering individuals and businesses in the digital world is at the core of their mission. They offer free training for several compelling reasons. First, it's all about accessibility – they aim to make digital marketing knowledge available to everyone, irrespective of their financial circumstances. This approach levels the playing field, ensuring that anyone with a thirst for digital marketing education can quench that thirst without financial constraints.
Community Building and Giving Back Tenacious Techies goes beyond education; they're also keen on community building. Through their free training program, they are cultivating a community of like-minded individuals and businesses. This network offers a platform for mutual support and shared learning, fostering collaboration and growth in the digital marketing realm. Furthermore, Tenacious Techies firmly believes in a "giving back" mentality. By providing free training, they actively contribute to the development of aspiring digital marketers and businesses, bolstering the overall health of the digital marketing community.
Establishing Industry Leadership Additionally, offering free training enhances Tenacious Techies' position as an industry leader in the digital marketing field. It showcases their expertise and unwavering commitment to advancing the industry. By sharing their knowledge and resources with the broader community, they reinforce their status as a trusted source of digital marketing guidance and expertise.
The Benefits of Tenacious Techies Free Digital Marketing Training
Enrolling in Tenacious Techies' free digital marketing training offers a multitude of benefits. Firstly, it presents cost-effective education, removing the financial barriers that often hinder individuals and small businesses from accessing high-quality digital marketing instruction. Moreover, the program boasts high-quality content and training materials, ensuring participants have access to the most up-to-date and relevant information in the ever-evolving digital realm.
Additionally, joining the Tenacious Techies community opens the door to valuable networking opportunities, enabling you to connect with fellow learners, experts, and businesses that can provide invaluable support on your digital marketing journey. The training also places a strong emphasis on practical knowledge, focusing on real-world applications, allowing you to immediately implement what you've learned into your projects or business strategies.
Furthermore, Tenacious Techies frequently awards certificates upon course completion, which can significantly enhance your resume and business credentials. Lastly, the program is characterized by continuous learning, as it consistently updates its training materials to align with the latest digital trends and best practices, enabling you to stay at the forefront of digital marketing excellence.
How to Get Started
Participating in Tenacious Techies free digital marketing training is straightforward:
Head to the Tenacious Techies website and look for their free digital marketing training program. They typically offer several courses covering various aspects of digital marketing.
Sign up for the program by providing your details. Registration is often free and requires minimal personal information.
Once registered, you'll gain access to the training materials. You can learn at your own pace and engage with the content as per your schedule.
Consider joining Tenacious Techies online community or forums to connect with fellow learners and mentors who can provide support and guidance.
Success Stories
Tenacious Techies free digital marketing training has already made a significant impact on numerous individuals and businesses. Here are a few success stories from their alumni:
"Marketing Enthusiast: John, a recent graduate with a passion for digital marketing, took advantage of the free training to build a robust skill set. He landed a high-paying job with a leading digital marketing agency."
"Career Changer: Michelle, who was looking for a career change, used Tenacious Techies training to transition into digital marketing. She now works as a digital marketing manager for a well-known e-commerce company."
Final Thoughts
Tenacious Techies free digital marketing training program is a testament to their commitment to democratizing knowledge and supporting businesses and individuals on their digital marketing journey. By offering accessible, high-quality education, they empower learners to thrive in the competitive digital landscape.
If you're looking to enhance your digital marketing skills, kickstart a career in the field, or take your business to the next level, Tenacious Techies free training is a valuable resource that can help you achieve your goals. Don't miss out on the opportunity to unlock success in the digital world with the guidance of industry experts. Get started today and embark on your journey to digital marketing excellence with Tenacious Techies.