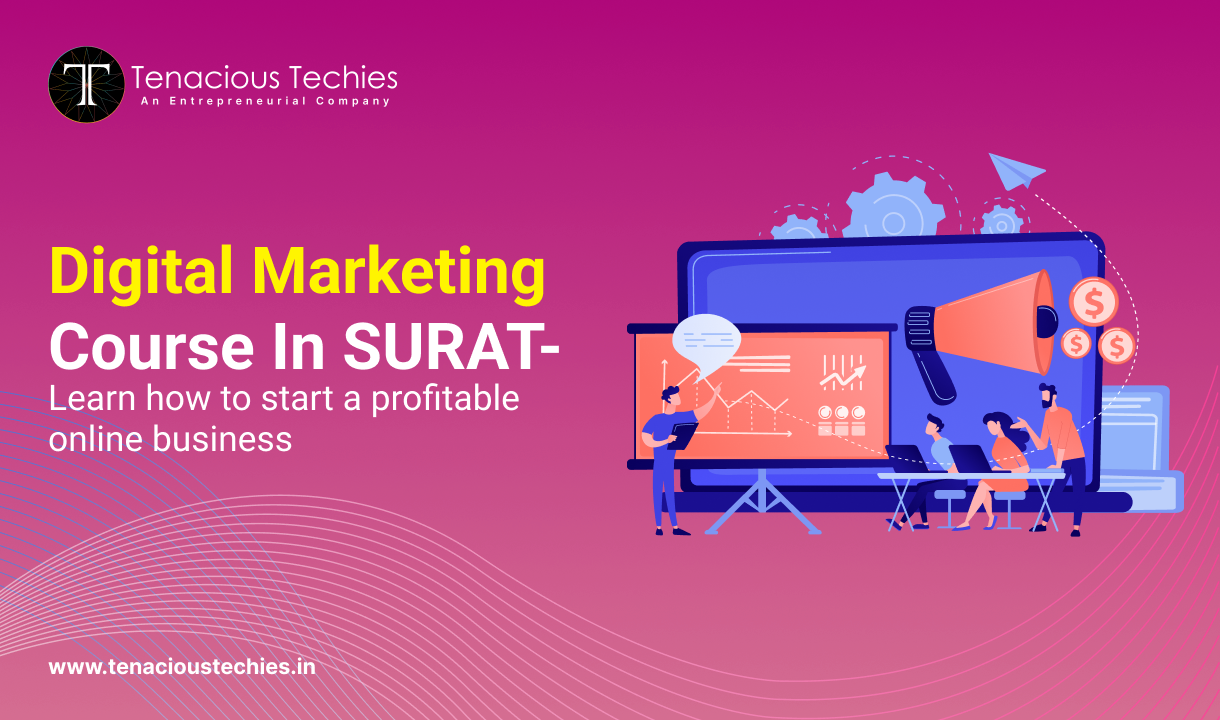 In today's fast-moving digital world, businesses heavily depend on their online presence to succeed. Digital marketing has become incredibly important, and the demand for people who are good at it is higher than ever. This creates a great opportunity for individuals who want to learn, do well, and make a good income. That's where Tenacious Techies Digital Marketing Training comes in. It's a well-known name in the industry, and it can help you achieve both your learning and earning goals. In this easy-to-understand guide, we'll take a closer look at what digital marketing is all about, why Tenacious Techies is a great choice for learning it, and how you can use this knowledge to build your skills and make money in this ever-changing field.
Understanding the World of Digital Marketing
Digital marketing is like a big toolbox with many different tools for promoting things online. Some of these tools include making websites show up on search engines, using paid ads, being active on social media, sending emails, and creating useful content.
What makes digital marketing exciting is that it's always changing. People who work in this field need to keep learning and trying new things to stay on top of their game. It's like being on a journey, and the path keeps shifting.
Why Digital Marketing Matters
Global Reach: Digital marketing allows businesses to transcend geographical boundaries, reaching a global audience, and breaking the constraints of traditional marketing methods.
Targeted Marketing: With precise targeting options, digital marketing enables businesses to tailor their messages to specific demographics, ensuring that the right content reaches the right people.
Cost-Effective: Compared to traditional advertising methods, digital marketing is often more cost-effective. You can start small and scale up as your business grows.
Measurable Results: Digital marketing provides detailed analytics and performance metrics, allowing businesses to track the effectiveness of their campaigns and make data-driven decisions.
Continuous Evolution: The digital marketing landscape is constantly evolving, providing opportunities for creativity and innovation in marketing strategies.

Now, let's talk about why Tenacious Techies

is a great place to learn about digital marketing.
The Tenacious Techies Advantage
If you're considering a career in digital marketing or aiming to enhance your existing skills, Tenacious Techies is a name that should be on your radar. Here's why:
Expert Trainers: Tenacious Techies boasts a team of experienced and knowledgeable trainers who are well-versed in the latest digital marketing trends. They provide practical insights and real-world examples to help you grasp the concepts effectively.
Hands-On Learning: The training program focuses on hands-on learning, ensuring that you gain practical experience in various digital marketing tools and strategies. This approach makes you job-ready and capable of handling real-world projects.
Certifications: Tenacious Techies offers certifications upon completion of their courses. These certifications are recognized in the industry, adding credibility to your resume and boosting your job prospects.
Placement Assistance: For those looking to start a career in digital marketing, Tenacious Techies provides placement assistance to help you find the right job opportunity. They have a strong network of industry connections, which can be beneficial for your career.
Entrepreneurship Opportunities: If you're interested in earning while you learn, Tenacious Techies offers entrepreneurship opportunities. Their training is structured to help you set up your own digital marketing agency or consultancy, allowing you to earn money while offering services to clients.
Learning with Tenacious Techies
How Tenacious Techies can empower you in your journey of learning digital marketing:
Comprehensive Curriculum
Tenacious Techies offers a well-structured curriculum that covers all aspects of digital marketing. You'll learn about SEO, content marketing, social media marketing, email marketing, PPC advertising, and more. The program ensures that you gain a deep understanding of each area. The curriculum evolves with industry trends, ensuring you stay up-to-date.
Practical Projects
Learning by doing is a crucial part of their training. You'll work on real projects and case studies, allowing you to apply your knowledge in a practical setting. This practical experience is invaluable when you start your career or business, as you'll have tangible examples of your work to showcase to potential employers or clients.
Networking Opportunities
Tenacious Techies often organizes webinars, seminars, and networking events where you can interact with industry experts and fellow learners. These interactions can broaden your knowledge and open doors to new opportunities. Networking is a fundamental part of success in the digital marketing field, and Tenacious Techies provides you with the platform to build those connections.
Flexible Learning
Tenacious Techies understands that individuals have different schedules and commitments. They offer flexible learning options, including online courses, which enable you to study at your own pace and convenience. This flexibility allows you to balance your learning with other responsibilities, making it an ideal choice for both full-time students and working professionals.
Earning with Tenacious Techies
The exciting ways you can earn with your digital marketing skills gained through Tenacious Techies:
With the skills you acquire through Tenacious Techies, you can kick-start your digital marketing career as a freelancer. You can offer your services on platforms like Upwork, Freelancer, or Fiverr and work with clients from around the world. Freelancing allows you to choose your projects, work from anywhere, and have the potential to earn a substantial income.
If you have an entrepreneurial spirit, Tenacious Techies provides you with the knowledge to set up your digital marketing agency. You can offer services like SEO, social media management, and content marketing to local businesses, gradually expanding your client base. Owning an agency not only offers financial rewards but also the satisfaction of building and managing your brand.
Another way to earn is through affiliate marketing. Tenacious Techies' training equips you with the skills to promote products and services online. You can join affiliate programs and earn commissions for every sale generated through your efforts. This passive income stream can grow substantially as you build your online presence and audience.
With a strong foundation in digital marketing, you can create and monetize your own content. Whether it's a blog, YouTube channel, or podcast, you can use your digital marketing skills to attract a large audience and generate income through ads, sponsorships, or product sales. Content creators often have the potential to earn significant income as their audience grows.
As a certified digital marketing professional, you can offer consultancy services to businesses looking to improve their online presence. Your expertise can help them create effective digital marketing strategies, optimize their existing campaigns, and grow their online reach. Consulting can be a lucrative path, especially if you specialize in a particular niche within digital marketing.
Conclusion
Tenacious Techies Digital Marketing Training offers a unique opportunity to both learn and earn in the field of digital marketing. With a comprehensive curriculum, practical experience, and multiple career and income avenues, their training program can be your key to success. Whether you're looking to start a new career or build your own digital marketing business, Tenacious Techies has the resources and expertise to guide you on your journey. So, don't hesitate to invest in your future with digital.