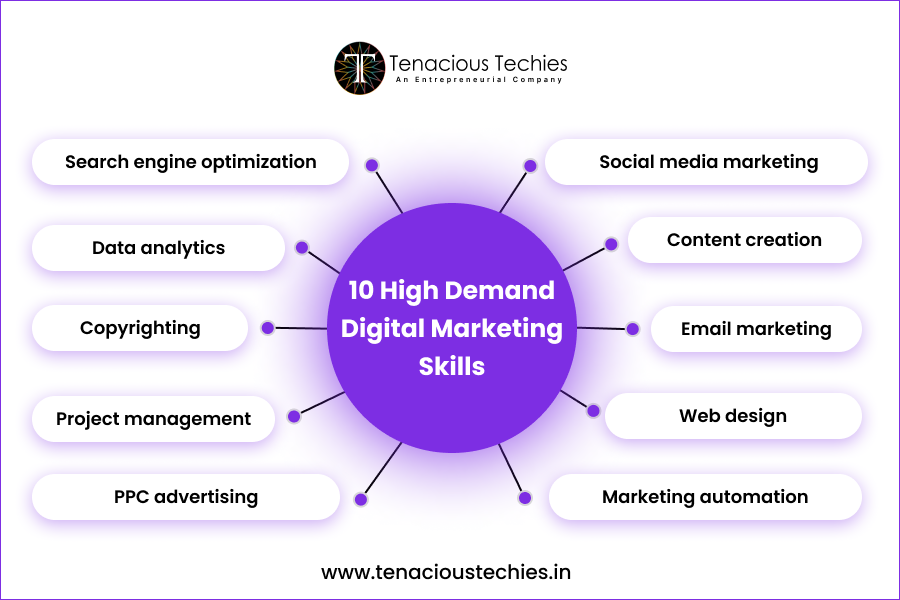 Digital marketing skills are the abilities and knowledge necessary to create, manage, and execute digital marketing campaigns. These skills are in high demand because businesses of all sizes are increasingly relying on digital channels to reach their target audiences.
Why are digital marketing skills in high demand?
There are several reasons why digital marketing skills are in high demand:
The digital landscape is constantly changing. New technologies and platforms are emerging all the time, so businesses need skilled marketers who can stay up-to-date on the latest trends and best practices.
Businesses are shifting their budgets to digital marketing. Digital marketing is more cost-effective and measurable than traditional marketing channels, so businesses are investing more heavily in it.
Consumers are spending more time online. People are spending more and more time on their smartphones, tablets, and computers. This means that businesses need to be able to reach them where they are spending their time.
10 digital marketing skills that will get you hired in 2023
1. Content creation
Content creation is the process of generating ideas and then turning them into tangible, consumable formats, such as written articles, videos, podcasts, or images.
It is a critical skill for anyone who wants to be successful online, whether you're a business owner, a marketing professional, or just someone who wants to share your thoughts and experiences with the world.
There are many different types of content that you can create, but the most important thing is to choose topics that are relevant to your target audience and that you are passionate about.
Once you have chosen a topic, you need to do your research to make sure that you have enough information to write or create something informative and engaging.
Content creation is an essential part of digital marketing and its mainly focus on UGC, because it helps businesses to connect with their target audience and achieve their business goals.
By creating high-quality content that is relevant to their audience, businesses can attract and retain customers, build brand awareness, and drive sales.
2. Search engine optimization (SEO)
Search engine optimization (SEO) is the process of improving the visibility and ranking of a website or web page in search engine results pages (SERPs).
It is one of the most in-demand digital marketing skills in 2023, as businesses increasingly rely on search engines to reach their target audiences.
SEO is a complex and ever-changing field, but there are a number of key areas that businesses and digital marketers need to focus on in order to improve their SEO rankings.
These include:

3. PPC advertising
PPC advertising is a type of online advertising where businesses pay each time someone clicks on their ad. PPC advertising can be very effective for driving traffic to a website and generating leads and sales.
PPC advertising works by bidding on keywords. When someone searches for a keyword on a search engine, the ads with the highest bids are displayed at the top of the search results page.
Businesses can also target their ads to specific demographics, interests, and locations.
PPC advertising is a powerful tool that can help businesses to drive traffic to their websites and generate leads and sales.
If you are interested in a career in PPC advertising, there are a number of skills that you will need to develop, such as keyword research, ad copywriting, landing page optimization, and campaign management.
4. Social media marketing
Social media marketing is the use of social media platforms to connect with and engage potential and existing customers. It is a great way to build brand awareness, generate leads, and drive traffic to a website.
To be successful in social media marketing, you need to be able to create and publish engaging content, interact with your followers, and run effective social media campaigns.
There are lots of different social media marketing apps that can actually help to grow your business and help you to learn more about social media marketing.
You also need to be able to use social media analytics to track your results and measure the success of your campaigns.
5. Email marketing
Email marketing is the process of sending promotional messages to a list of subscribers. It is a very effective way to nurture leads and stay in touch with customers.
Email marketing has a number of advantages over other forms of marketing, such as social media marketing and PPC advertising.
First, email marketing is more targeted. You can send emails to specific segments of your list, based on their interests or demographics. This means that your emails are more likely to be relevant to your subscribers, which makes them more likely to open and read them.
Second, email marketing is more personal. You can address your subscribers by name and send them personalized messages. This helps to build relationships with your subscribers and makes them more likely to trust you.
Third, email marketing is more measurable. You can track a variety of metrics, such as open rates, click-through rates, and conversion rates. This data can help you to improve your email marketing campaigns over time.
6. Marketing automation
Marketing automation is the use of software to automate marketing tasks, such as email marketing, social media marketing, and lead nurturing. This can free up marketers' time so that they can focus on more strategic tasks.
It works by creating workflows, which are a series of steps that are followed automatically. For example, you could create a workflow that automatically sends a welcome email to new subscribers, followed by a series of emails that nurture them through the sales funnel.
Most popular marketing automation platforms:
Salesforce Marketing Cloud
Pardot
Marketo
Eloqua
7. Data analytics
Data analytics is the process of collecting, analyzing, and interpreting data to gain insights into customer behavior and trends. This information can be used to improve the effectiveness of digital marketing campaigns.
There are a number of different data analytics tools available. Some of the most popular tools include Google Analytics, Adobe Analytics, and Mixpanel. These tools allow businesses to track website traffic, social media engagement, and other important metrics.
Once businesses have collected data, they can use data analytics tools to analyze it and identify trends. For example, a business might use data analytics to identify which products are most popular with their customers, or to learn more about the customer journey.
The insights gained from data analytics can then be used to improve digital marketing campaigns.
8. Copywriting
Copywriting is the art of writing persuasive text that sells products or services. It is a skill that is in high demand in many different industries, including digital marketing, advertising, and public relations.
Copywriters are responsible for writing a variety of different content, such as website copy, email marketing copy, sales copy, and social media posts.
The goal of copywriting is to convince the reader to take a desired action, such as making a purchase, subscribing to a newsletter, or signing up for a free trial.
To be a successful copywriter, you need to have a strong understanding of human psychology and what motivates people to take action. You also need to be able to write clear, concise, and persuasive text.
9. Web design
Web design is the process of creating the visual layout of a website. It includes everything from the overall look and feel of the site to the placement of individual elements like text, images, and buttons.
Good web design is important for a number of reasons. It can help to attract and retain visitors. A well-designed website is more likely to be visually appealing and easy to navigate, which will encourage people to stay on the site longer and explore different pages.
Improve the user experience through good design. A well-designed website is more likely to be easy to use and understand, which will make it easier for visitors to find what they're looking for.
A well-designed website is more likely to be seen as professional and credible, which can help to build trust with potential customer.
10. Project management
Project management is the process of planning, executing, and monitoring projects. It is an essential skill for any professional, but it is especially important for digital marketers.
Digital marketing projects are often complex and involve multiple stakeholders, so it is important to have a clear plan and to be able to manage the project effectively.

Benefits of having digital marketing skills
There are many benefits to having digital marketing skills, including:
High salary potential: Digital marketers are in high demand, so they can earn high salaries.
Job security: The digital marketing industry is growing rapidly, so there is a lot of job security for skilled digital marketers.
Opportunities for remote work: Many digital marketing jobs allow for remote work, which can be a great benefit for people who value flexibility.
Career advancement opportunities: There are many opportunities for career advancement in the digital marketing field. Skilled digital marketers can move up to management positions or start their own businesses.
How to develop digital marketing skills
There are many ways to develop digital marketing skills. Here are a few options:
Courses and tutorials: There are many courses and tutorials available on digital marketing topics. These courses can be a great way to learn the basics of digital marketing or to develop specific skills, such as SEO or PPC advertising.
Boot camps and certifications: Boot camps and certifications can provide you with more in-depth training on digital marketing topics. Boot camps are typically short-term programs that teach you the skills you need to start a career in digital marketing. Certifications are typically earned by passing an exam after completing a training course.
On-the-job training: Many employers offer on-the-job training for digital marketing positions. This can be a great way to learn from experienced digital marketers and to gain hands-on experience.
Conclusion
Digital marketing skills are in high demand in 2023. If you are interested in a career in digital marketing, then apply FREE demo for TenaciousTechies digital marketing course which covers all the essential skills for your career.
Once you have developed your digital marketing skills, you will be well-positioned to land a high-paying job in a growing industry. You will also have the opportunity to work remotely and to advance your career.
If you have any questions, please feel free to Contact us.