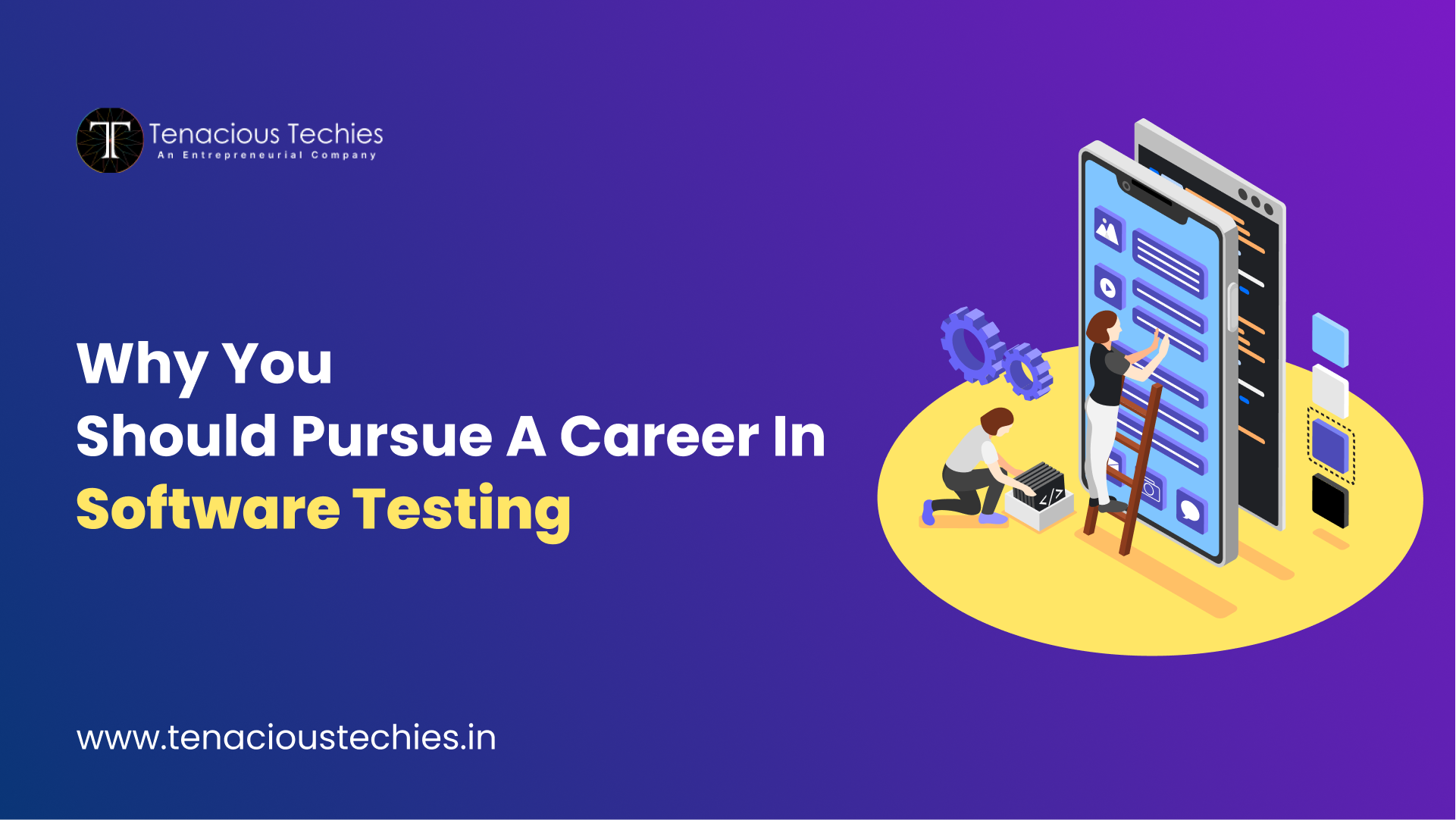 Are you aspiring to kickstart a rewarding career in software testing right here in Surat? Look no further than Tenacious Techies, your gateway to a world of opportunities in quality assurance. With an extensive range of software testing courses tailored to meet the industry's demands, Tenacious Techies has established itself as a premier institute for software testing in Surat. Whether you're a fresher looking to enter the IT field or an experienced professional seeking to upgrade your skills, Tenacious Techies has something for everyone.
Why Software Testing Matters?
Before delving into the courses offered by Tenacious Techies, let's understand why software testing is a crucial component of the IT industry. Software testing plays a pivotal role in ensuring the quality and reliability of software applications. It involves evaluating software to identify defects, errors, and vulnerabilities, thus guaranteeing that the final product meets the desired quality standards. Here are a few reasons why software testing is essential:
Quality Assurance

: Software testing helps in maintaining high-quality standards by identifying and rectifying defects before the software is deployed.

Customer Satisfaction

: Quality software translates to satisfied customers, which is essential for the long-term success of any business.

Cost-Efficiency

: Detecting and fixing issues early in the development process is more cost-effective than addressing them after the software is released.

Compliance

: In certain industries, such as healthcare and finance, regulatory compliance is mandatory, and software testing ensures adherence to these regulations.

Enhanced Reputation

: Reliable software builds a positive reputation for the organization, attracting more clients and partners.
Now that you understand the importance of software testing, let's explore the various courses Tenacious Techies has to offer in Surat.
Software Testing Courses at Tenacious Techies Tenacious Techies offers a wide range of software testing courses designed to cater to different skill levels and career goals. Whether you are a beginner or an experienced professional, you can find a course that suits your needs at this reputed institute. Let's take a closer look at some of their popular offerings:
1. Software Testing Fundamentals Course
Course Duration:
3 Months
Who Is It For? This course is perfect for beginners who want to gain a foundational understanding of software testing. It covers the basics of manual testing, test case creation, and bug tracking.
Key Highlights:
Hands-on training in manual testing.

Introduction to popular testing tools.

Practical experience through real-world projects.
This course is an excellent choice for those looking to start their career in software testing.
2. Advanced Software Testing Course
Course Duration:
6 Months
Who Is It For? This course is designed for individuals with some prior knowledge of software testing. It delves deeper into topics such as automation testing, performance testing, and test management.
Key Highlights:
In-depth coverage of automation testing using industry-standard tools.

Performance testing techniques.

Test management and reporting.
The Advanced Software Testing Course is ideal for professionals looking to upgrade their skills and take on more challenging roles in quality assurance.
3. Certified Software Tester Certification
Course Duration:
2 Months
Who Is It For? The certification course is aimed at experienced software testers who want to validate their skills and knowledge. It prepares you for the globally recognized CSTE certification exam.
Key Highlights:
Industry-Aligned Curriculum

Hands-on Learning

Expert guidance from certified instructors.
Obtaining the CSTE certification can significantly enhance your career prospects in the field of software testing.
4. Automation Testing Course
Course Duration:
2 Months
Who Is It For? This course is tailored for individuals interested in automation testing. It focuses on Selenium, one of the most popular automation testing tools in the industry.
Key Highlights:
Hands-on experience with Selenium.

Test automation frameworks.

Integration with continuous integration tools.
Automation testing is in high demand, and this course equips you with the skills needed to excel in this niche.
Why Choose Tenacious Techies? Now that you have a glimpse of the courses offered, you might wonder why you should choose Tenacious Techies over other institutes in Surat. Here are some compelling reasons:
Experienced Instructors

: Tenacious Techies boasts a team of experienced and certified instructors who provide expert guidance and mentorship throughout your learning journey.

Practical Approach

: The institute emphasizes hands-on learning, ensuring that you gain practical experience and are well-prepared for real-world scenarios.

Industry-Relevant Curriculum

: Tenacious Techies keeps its curriculum up-to-date with industry trends and demands, ensuring that you acquire skills that are in demand in the job market.


Placement Assistance

: The institute offers placement assistance to help you kickstart your career in software testing. They have strong ties with IT companies in Surat and can connect you with potential employers.


Flexible Timings

: Tenacious Techies understands the importance of flexibility in learning. They offer both weekday and weekend batches to accommodate your schedule.
Tenacious Techies in Surat is your go-to destination for top-notch software testing courses. Whether you're just starting your career or seeking to upgrade your skills, their range of courses caters to all levels of expertise. Investing in software testing education at Tenacious Techies will not only enhance your knowledge but also open doors to exciting career opportunities in the IT industry.
Don't miss this chance to master the art of software testing in Surat. Book your free consultation with Tenacious Techies today to explore their courses, meet the instructors, and embark on a rewarding journey towards becoming a proficient software tester.
Visit Tenacious Techies to learn more about their courses and get started on your path to success in software testing!